Check your email to get all the details about the conference
SPECIAL ONE-TIME CONFERENCE DISCOUNT!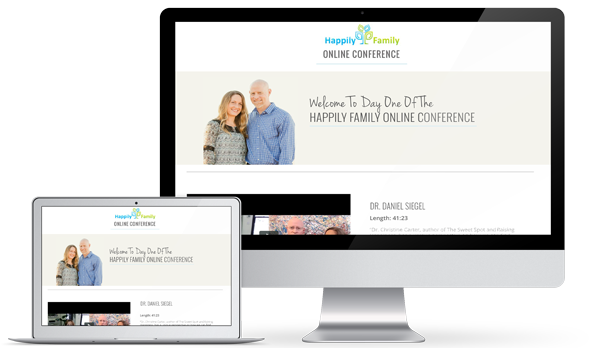 There is no charge for the Happily Family Conference for 5 days of presentations and support from parenting experts.
HOWEVER, if you OWN the conference recordings, you'll get immediate access to the entire conference,
you can watch after the conference ends,
and you don't have to worry about missing anything.
Get the entire conference IMMEDIATELY and own it forever at over 75% off.
Plus you'll get MP3s, Transcripts, a Certificate, and 14-day Guarantee
BUT this is your only chance to buy it at this discount.
Own the entire conference forever!
"The amount of information and the quality of speakers that you arranged
 to be a part of this conference is truly impressive."
"This conference is the best thing that happened during my parenting experience."
"Your event was absolutely fabulous! The way your wife and you interacted with the professionals was just amazing."
"This conference has been beyond inspiring for me! The interviews are all amazing and packed with information."
"Thank you for putting together an AMAZING conference!! Such a fantastic wealth of knowledge."
"My mind is blown! I can't thank you enough for this conference and the extension! Truly amazing!"
"This conference has been SO AMAZING - just what I needed and incredibly insightful and eye-opening!!"
When You Order the Happily Family Conference You Get


   25 full length videos to watch and share

   Audio MP3s for listening on the go

   Certificate of Participation

   14-day money back guarantee
   PLUS Transcripts
"The amount of information and the quality of speakers that you arranged
 to be a part of this conference is truly impressive."
"This conference is the best thing that happened during my parenting experience."
"Your event was absolutely fabulous! The way your wife and you interacted with the professionals was just amazing."
"This conference has been beyond inspiring for me! The interviews are all amazing and packed with information."
"Thank you for putting together an AMAZING conference!! Such a fantastic wealth of knowledge."
"My mind is blown! I can't thank you enough for this conference and the extension! Truly amazing!"
"This conference has been SO AMAZING - just what I needed and incredibly insightful and eye-opening!!"